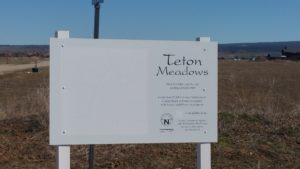 I was posting a few signs last week, and noticed an old (2007 or so) subdivision sign at Teton Meadows. In a way, it's a testament of where prices once were. If you can't read it, it says "Lots Starting at $265,000". Yes, those were the old days. The height of the market, just before the bubble.
Then, the downturn. It would be hard to average prices at the worst point of the market, there just weren't as many sales. Great Teton View Corridor lots went from 200k, to 50k, overnight. There was a lot of talk – PRICES WILL NEVER GET THERE AGAIN.
Or will they?
The bulk of our recovery and market stabilization cam over the last 24 months. In my opinion, and speaking in generalities, I would say we are 25% up, from the bottom. Look at market reports (you can check out the market reports tab on this site) and you will find that data shows a 30% increase in sales prices over the past 12 months. Based on this info is it feasible that prices will increase another 30% by this time next year? While I tend to agree (barring inflation) that prices won't reach that 2007 mark, here are a few arguments as to how it might get close;
I've seen a few outstanding sales (MLS #'s 15-2321 & 15-1331) in excess of 100k. Yes, these are some of the prime lots in their respective developments, but pretty big numbers nonetheless.
Supply and Demand. I will do a "Then & Now" post for residential examples throughout the region in upcoming posts, but if you haven't noticed, the residential market has exploded. We are nearly 100% recovered. Why? low supply and high demand. You will hear people talk about a thousand year supply, and that there are 400 residential lots on the market – but the always has been. That's right, even in 2007, or 1999, there always has been a large supply. Prices go up, and they go down. The supply when talking just number of lots, has remained relatively close to the same. Remember, it's a large valley. There are large Teton View Corridor lots, in-town lots, City subdivision lots, golf community lots, farm & ranch parcels, and so on.
 Cost to subdivide. This is a key point. In a continuation of item 2 above, remember our market is comfortable sustaining a large number of lots on market at all times. To sustain that supply, there has been continual development and growth. There was obviously heavy development in the 2007 era, but has been virtually "none, zero, zilch" since. We do have a good supply (and reserves), but it won't last forever. The "Teton Valley Dream" will go on. People from all over the world will buy and sell lots, to own a small piece of our valley. In any case, the fear of "over development" has created a difficult environment for future development. By difficult, I mean difficult and expensive. New requirements in place for environmental testing, fire suppression requirements, etc.
The above said, and like always, the good lots always sell first. It's not uncommon to see a 60k sale, and a 100k sale in the same development. There is a large supply of good lots, at prices substantially less than years' past. Speculation? Of course, it always is. Do I think it's a good time to buy a good lot? Yep.