Price-fixing: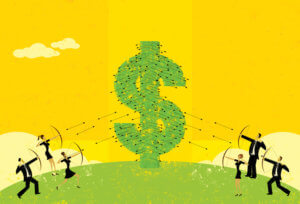 No, I'm not talking about real estate in general, or even real estate commissions. We all know that real estate prices are a collaboration of all of the local real estate agents who determine the market and the commissions the consumer pays. I'M KIDDING.

What I am talking about, however, is vacation rental costs. In my spare time (which is usually between 10 p.m. and 12 a.m. and 7 a.m. and 8 a.m.) I spend countless hours burning my eyeballs out looking at my over-sized smartphone, usually something real estate related. The other night, that was vacation rental prices in along the Gulf Coast. Why? I don't know. So, what did I learn?

I learned that unfortunately, vacation rental prices in some areas are way. too. cheap. I was looking at 4 bedroom homes along the Gulf Coast for $89 a night. I thought to myself, "How could this be?"then I remembered that I probably know the answer. The vacation rental market is likely saturated and the market is competitive. I love Airbnb, but when somebody down the road is willing to lease a bedroom for $16.37 for the night with a free light beer in the fridge, it makes it a difficult proposition for everyone else.

Being the proud owner of a vacation rental in the Teton Valley area, and having a great knowledge of property management and vacation rental prices after a decade of property management, it got my wheels turning. Are our prices too cheap? Are we headed towards a competitive market place with not enough to go around?

Again, I know the answer to this too. Yes, our prices are too cheap. And no, I don't think the market is over-saturated with the exception of shoulder seasons, but I guess that's like anywhere else. Nonetheless, I took a detailed look at some of Teton Valley's short-term rental offerings through various vendors to understand how how many mistakes are being made with respect to pricing. No, like the title suggests, I'm not price-fixing. I'm simply educating myself with what my competition charges, and looking at how much activity there is during certain times of the year. During this exercise, (I checked out a few dates in July of next year) I learned a couple of things.
1) Fortunately, there isn't a huge number of short term rental owners that are under pricing during peak season – but there are a few.

2) There are certainly some marketing mistakes being made. One title was talking about how cool the Fall nights are. I'm not looking in the Fall. I don't plan my vacations last minute like all of you non-planners, fellow Millennials, and Generation Z's (or whatever you are).

3) Nobody was offering free light beer with a single bedroom stay.

My point with all of this is that seemingly, our market is not making the mistake that I witnessed in the Gulf Coast. At least not yet. It really, really, (really) needs to stay that way. There were a few advertising between 10 and 20% less than they should be, (others more) but I don't think that's going to kill the market. It's just going to kill their return on investment. But, these are also probably the people who complain about a management fee that would probably be absorbed by proper management.

Anyway, I then looked at rates during shoulder seasons. I had to double-check to make sure that I wasn't back on the Gulf Coast location, because I learned:

1) At least people are taking the initiative to change their prices during different seasons, but it really doesn't need to be this dramatic.

2) That one guy who has 500 reviews and is renting his guest house for less than a hotel room is an idiot.

3) Nobody was offering free light beer with a single bedrooms stay.

To conclude, we really need to be careful. Idaho is a very pro property rights state. There likely isn't going to be any restriction with the exception of subdivision homeowners association restriction on short-term rentals anytime soon. This is a good thing and a bad thing. On one hand it protects our interests as short-term rental investors, but on the other it also invites future competitors. As I mentioned at the outset of this article, we have room to grow. We are gaining popularity as a recreational destination for good reason. But, some of these locations I was viewing on the coast were destinations in their own right. It only takes one guy with 500 great reviews to start a revolution, in a bad way. We need to be fair with ourselves as investors and property owners, and we need to understand that people are willing to pay for clean, comfortable accommodations in one of the most beautiful locations in the world.

On that note, cheers!