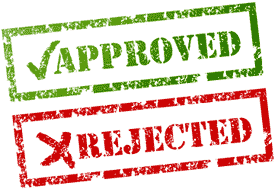 ***Tayson is not a lender. confirm the below "good practices" with your lender.
As our local market becomes more and more competitive with multiple offers and properties moving quickly, it's becoming ever-important to be prepared to provide a pre-qualification letter along with your offer, and to be prepared to close on time. We're seeing a number of sellers continue to market their home for sale for backup offers during the contract process with the buyer. If the seller receives a backup offer they usually can't terminate your contract (unless the contract specifically states they can) without the buyer failing to meet a deadline, or failing to close on time. In most cases the important deadlines are timely earnest money delivery, and proof of funds or loan approval subject to appraisal and underwriting on or before the dates specified in the contract. Work with your realtor to ensure all timelines are met, and work with your lender to ensure you close on time. Some tips, below;
How to Prepare:
The best practice if you are thinking of buying in the near future would be to begin preparing well in advance, though this isn't always possible. Follow these steps to the best of your ability.
Save your pay stubs. If you foresee a new loan in your future, become extra diligent about keeping record of large purchases *<—avoid if possible* , keeping pay stubs, bonus check stubs, and keeping track of any expenses or income that is out of the ordinary.
Start collecting your tax returns for the last 2 years. If it's 2016, you will need your complete 2014 and 2015 returns. Organize them, separate your w-2's and any 1099's. If you need to collect these items from your employer or accountant it could take valuable time during a contract – sometimes too much time.
Get in the habit of "digitizing" all of your records, or stop in to an office center periodically to scan, label and organize all of the documentation needed. In addition, keep the originals in a safe place that is easy to access until after closing.
If you are depositing money gifted from someone that is not immediate family (or traceable funds), in some cases it cannot be used unless the cash has been in your account longer than the lender will look back in your records. Always consult with your lender, but this tip could be helpful, and you would need to obviously deposit the funds well in advance.
In keeping with the above, if you do plan on using gifted funds, speak with your lender early on in the process about properly going about this. It is extremely important to follow the proper procedures and collect documentation that your lender requires such as proof of where the funds came from, or a gift letter. Also, remember to keep documentation of deposits. If you are selling a car to come up with a down payment, remember that you will need proof of ownership, bill of sale, etc. Consult with your lender if you are selling an item to increase cash for closing.
If you are selling a home to relocate, obtain a complete record from the title company or real estate professional that helped you. Your lender WILL need this.
Think about speaking with a lender early on – very early on in the process. In some events home buyers find they have an outstanding balance they were unaware of, or a fraud issue that is affecting their credit. This can take months to clear up, and it's best to find out about this prior to finding your dream home that needs to close in 1 month.
Try not to close any investments accounts, or open new accounts based on credit, including obtaining new credit cards.
When saving $$ for your down payment, remember also to save for closing costs, which can be several thousand dollars. Don't let this come as a surprise after writing your offer.
Continue life as normal. PAY ALL BILLS on time, including credit cards, auto payments, etc.
CONSULT WITH YOUR LENDER on all items! If you are considering a job change, a large purchase, anything, consult with your lender. Remember that your real estate agent and/or the seller are not lenders.
Just like with your Realtor, most lenders can help you with any property as long as they can work in your state. However, like your Realtor, it can pay off to work with a lender that understands the nuances of our local Teton market such as long appraisal times, or any specific loan requirements related to the location of the property, proximity to wetland, etc. I have been in several circumstances where an out-of-state lender will contact me after reviewing a settlement statement and say "Tayson! There is no reference to the transfer tax!" Yes, yes – that is because we do not have a transfer tax… In addition, most buyers will find that unless working with a "big box" brokerage, they probably won't have to pay their real estate firm any fees related to the services, even if they do not buy a home. However, interest rates and closing costs can vary from lender to lender. It's a good idea to shop for a lender that is not only a local market expert, but one that has good rates and reasonable close costs.