Archives for February 2018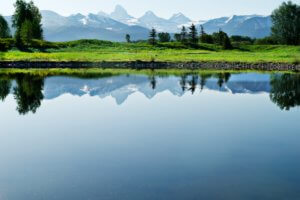 While it may not seem like a big topic to someone in the community not involved with real estate, fire suppression compliance, (or the lack thereof) has recently been a big topic for those in the real estate community.
If you're familiar with many of the communities in Teton County, you might have noticed that most of the newer communities have beautiful ponds. While these ponds are aesthetically pleasing to most, it wasn't because the developer was looking to improve the quality of the subdivision, it was usually a result of the requirement for a fire water storage system. Most developers installed these systems, sold out the lots in the community, and moved on. These communities formed homeowners associations for road maintenance and other aspects of neighborhood duties, but many were not privy on the requirement to have these systems tested annually.
The fact that they systems weren't tested went largely unnoticed for several years due to the slow period of construction. Now that construction is picking up, those filing for building permits are in some cases being told that these systems must be tested for compliance prior to issuance of a permit. Overzealous real estate agents also have a tend to research issues on behalf of customers which sheds some light on these issues now that we are seeing more and more building sites selling per year.
I communicated with Teton County Fire Chief Earle Giles who reports that about 20% of Teton Valley's subdivisions are out of compliance. Fortunately, it's a relatively easy process for most homeowners associations to have their systems tested. These ponds are usually accompanied by a nearby hydrant which an engineer or a pump technician can connect to and test the flow which is measured in gallons per minute, or GPM. Earle was also kind enough to provide a couple of contacts for testing, and most of these contractors will be happy to put you on an annual test program to keep things in accordance. It's affordable, and helps retain values when it's time to sell!
-Grant Durtstchi – 208-705-7200
-AW Engineering – 208-787-2952
-Wilder System Solutions – 208-456-2287
4965 Rowboat Loop Victor, ID 83455
It's been a while since I last uploaded in the "Deal of the Week" section, but there hasn't been too many new deals. However, with a recent price reduction, nearly 1800 SqFt, a great paved development bordering open space, and quality finishes throughout this home has a lot to offer for the price.
Why it's a good deal:
Newer home in a quality development at a great price in a market with limited inventory.
How much?
Just reduced, $335,000.
How quick will it sell?
If it doesn't see soon, it should. Comparable homes are either much smaller, not in great shape, or simply don't exist.
MLS info below. Log in to save this property.