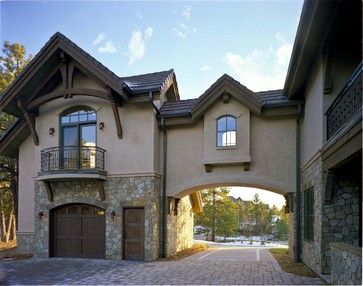 We don't see a ton of stucco in this area, but have seen it installed in years past. It is also becoming a popular accent material. Also, it is a durable material that rarely needs refinished.
Stucco has, however, had it's share of troubled times. In the 60's and 70's, a stucco system called the Exterior Insulation and Finish System, or EIFS, was introduced. EIFS can be a durable system, which as the name indicates, also offers an additional insualtion layer. Basically a foam board is installed followed by a netting, then stucco. In the late 80's, lawsuits began to surface due to water intrusion. While little to no siding systems are impereable to moisture, the problem with EIFS then was that it did not allow moisture to escape which created mold and other problems.
Today, EIFS systems and manufacturers have drainage systems which can be installed to prevent problems if moisture becomes present. In addition, most manufactuers require that installers are trained and certified. Repair persons should also be certified by the manufacurer.
In addition to EIFS, traditional stucco is still installed today. Unlike EIFS which is a single layer of stucco (actually synthetic stucco) over the netting and foam board, traditional stucco is a 3 layer system consisting of aggregate, a binder, and water, much like concrete.
With all of the new construction we are seeing today, it is important that if installing stucco, and particularly EIFS, that it is done so by a certified installer. In addition, the certificate should be retained for future buyers as well as future repair or warranty work. It would also be a great idea to have your roofing, siding and decking contractors to have a preliminary meeting with the stucco installer. Any items that meet or cover stucco MUST be property flashed so that water is directed away from, or to proper areas so that the drainage systems mentioned above work properly. If the contractor is not local, you or your general contractor should also review potential problem areas for ice damming. Pay special attention to North facing roof valleys and discuss roof ventilation systems which help prevent ice damming, which is often a result of heat loss.