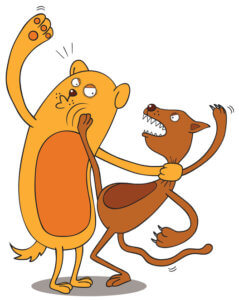 And I should have added real estate professional or Realtor into the mix…
Any of you that have a rental property, or a residence that has been converted to a rental property while waiting for this market to recover has probably had an experience with this. Now that the market has recovered, many of us whom have been waiting to sell are anxious to act, and these sellers have every right to do so, for the most part. It's been a complicated life as a real estate professional watching this market through the recession and recovery. Many had to rent their property to offset the cost of ownership through the unexpected downturn nearly as decade ago.
This challenge comes at a time today when supply is low – hence the improving market. That supply however, unfortunately includes available rental properties as Commerce begins to grow and we begin to see a shift in population during that growth period. Now, those who have been operating their home is a rental property with tenants for the past several years are faced with a task at hand, transitioning from a rental property to a property that is for sale. This can be taxing for the tenant as well, who faces notice to vacate at a time when rental supply is so low. Throw the Realtor into the mix, and things get complicated.
Seller advise:
For the obvious reasons on behalf of the tenant, my first suggestion is to remember that it is a difficult time, and to be sensitive about certain issues. Providing notice to vacate in the middle of winter, for example, can be difficult for anyone. Next, review your lease agreement. Many leases have a provision for a 60-day notice to vacate if the property sells. If you own a property, you have every right to exercise this right, but do so in a sensitive manner as I have suggested above. If you are considering selling in the future, try to time this properly. To avoid major push-back, it might be best to wait until your lease is it month to month or in holdover status. After you review your lease, the next step would be to have an honest and straightforward conversation with your tenant or through, and with your property manager. Your tenant might be looking to vacate early, perhaps they are looking to purchase a home. There are numerous opportunities to resolve the problem before a problem develops. As a final bit of advice, once you have gone through the proper steps to make sure you are handling the process ethically and properly, remember that you are the homeowner. You have every right to sell your property, and when the time is right, don't make the mistake of being overly sensitive to put your own interests at risk or to jeopardize a major decision. If the home isn't kept in great condition, or the tenants are making demands about reasonable showing requests, it might be in your best interest to provide notice and market a vacant property. This could mean thousands of dollars difference in sales price. This is your home, and your investment.
Tenant advise:
As a tenant, you likely have an interest in the property, this is called a leasehold interest. Basically, this gives you the right to occupy the property. These rights are associated with the lease agreement that you have in place. I have not had very many experiences (especially with property management companies) where these agreements are written illegally. Assuming your landlord or Property Manager has taken the proper steps to provide notice or to inform you they will be listing the property, you can review your lease to see what your options are. Remember that if you are in the middle of a tenancy with months left on your agreement, there may be a clause as I described above where the owner can provide notice to vacate upon sale or transfer of the property. On the other hand, as an owner, there a certain number of rights that you do not have. One of these rights include the right to sell the property (feel free to check out a recent post on the "bundle of rights" that come along with property ownership). You may feel upset about the situation for the reasons I described at the preface of this post. It's not a great time to be a tenant without a place to live in this area. With that said, if you are at the end of your lease, the owner has the right to give you notice to vacate the property. If the timing does not work for you, the owner may be able to market the property for sale while you still reside in the property with the owner retaining the ability to provide notice when the property goes under contract or sells. If this is a goal you wish to accomplish, the first thing you need to remember is that it may not be an option. This does not mean that your landlord is a bad person. Second, go about it the right way. Be respectful and understanding of the situation. When your landlord or property manager meets with you, show them that you are capable of keeping a show ready home in good condition. Express your concerns, but understand their concerns as well. In my experience, the best way to get what you want is to go about it with respect and understanding. Providing push back and expressing dissatisfaction during these times is a surefire way to move in the opposite direction and potentially receive notice to vacate. Finally, if you are able to work out an agreement to stay in the property during the marketing period, remember that there may even be an opportunity that the new owner of the home will retain you as a tenant for sometime. If this is also something you would like to accomplish, remember that a buyer's first impression will make all the difference if they are considering this, and there are more of these types of buyers than you might guess. Finally, when it comes to the real estate agent involved in all of this, they represent the seller. They should, and in some cases are required to report any problems with the property to the owner. Putting on a good show for the owner but not the real estate agent involved certainly doesn't help the situation. If a real estate agent representing a buyer feels that you have been difficult to work with or don't keep the property in good condition, you can bet that they won't recommend keeping you as a tenant in the event the buyer is an investor owner, or does not need to take occupancy right away. If the real estate agent representing the owner is not providing reasonable notice to show the property, entering the premises without permission, or otherwise, feel free to speak with them or the owner. Having a good relationship with the real estate professional makes for a much easier process. Finally, if you are interested in purchasing the property, have that discussion with the owner prior to the home being listed. Unless the owner has provided for an exception for you to purchase the property, speak with a real estate professional if you would like to purchase the property. Working in the shadows to manipulate a situation into getting what you might want is not the right way to handle things.
Real Estate Professional advice:
We know that our job is to represent the seller when it comes to an active listing. Our job, however, is not to harass, or take matters into our own hands when it comes to working with someone who occupies a property. If a Tenant is causing a problem, it's a discussion you should have, and in my opinion, must have with the owner of a property. If a home is not properly maintained, this could mean thousands of dollars for the seller. Remain neutral, and show respect to any occupant while also properly representing the seller.